Our Business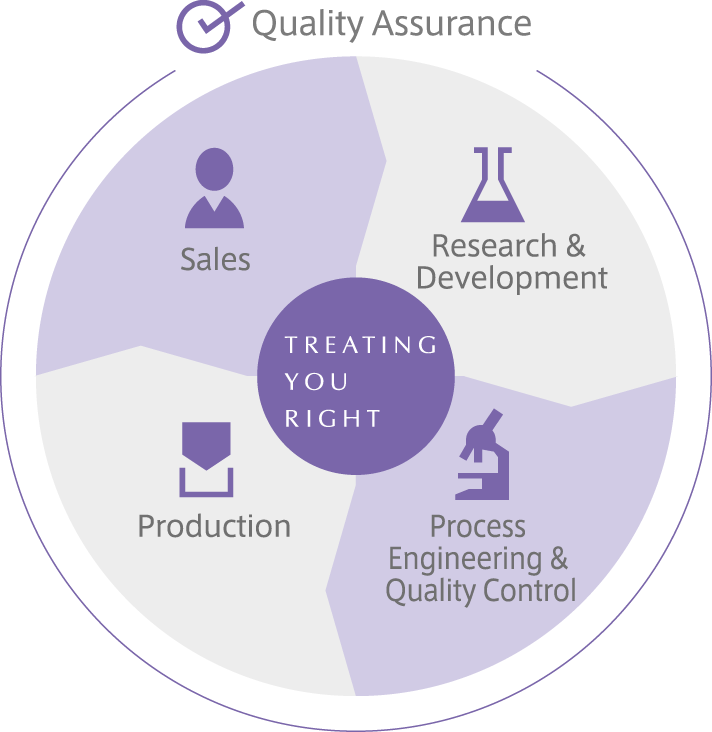 Quality Assurance
Established our original system of quality assurance: Miyoshi Kasei Quality Management System based on ISO9001:2008 quality management system and Good Manufacturing Practice (GMP) in 2012.
This assures quality of our products in every process from research & development to sales.
Research & Development
Implement basic research and applied development aiming to produce innovative products and meet customer needs.
Develop new products and improve existing products in corporation with our global Research & Development team.
Process Engineering & Quality Control
Scale-up the experimental products and develop a process of manufacturing for stable supply to the customers. Also keep safety and reliability of our products by strict inspection at Quality Control division based on Miyoshi Kasei Quality Management System.
Production
Products are manufactured under safe and high quality standards in compliance with Miyoshi Kasei Quality Management System throughout the process from receiving raw material to shipment of our products.
Sales
Place importance on "the user's perspective" and cooperate with our global sales team to quickly response to customers' needs. Also, our "APPLICATION LAB" provides various support for customers.
※APPLICATION LAB is designed for Customer Support: